Fri, 12 July 2019
EP. 123 Eric Vespe
Eric Vespe is an entertainment writer based in Austin, TX. He started writing professionally at sixteen for Ain't It Cool News under the name "Quint." Since then, he's gone on to write for other major online publications, including Rooster Teeth, SlashFilm, Collider, and more. In this interview we talk about how film criticism has changed over the past two decades, interviewing George Carlin, and the best way to jumpstart your way into a creative career. You can follow Eric on Twitter (@EricVespe) and Instagram (@ericvespe).
---
Sun, 11 November 2018
Ep. 118 Lindsey Phillips
Lindsey Phillips is a documentarian based in New York. I first came across her work this past year at Fantastic Fest and fell in love with her short documentary My Name is Marc. Her 13-minute documentary profiles the legendary owner of Cleveland's Norton Furniture and his wacky and often infamous commercials. In this episode, Lindsey and I chat about the history behind Marc's commercials, covering controversy, and her upcoming projects. She is a talent to watch! You can follow Lindsey on Facebook.
**ADD IN MARC INTRO!
Show Notes:
---
Thu, 25 October 2018
Ep. 117 Jessica Leski
Jessica Leski is the director of I Used to Be Normal, a documentary following four women who are obsessed with their boyband of choice. I Used to Be Normal was my number one film at Fantastic Fest. Leski and her producer Rita Walsh take you deep into the world of boyband fandom, and they don't stop there! This documentary is full of surprises that will make you reflect on your own passions afterwards. In this interview, Jessica and I talk about the inspiration for the film, deleted scenes, and documenting the featured girls for over five years. You can follow Jessica on Twitter. You can also follow I Used to Be Normal the documentary on Twitter (@boybandfangirl_), Facebook, and Instagram (@boybandfangirl).
Show Notes:
I Used to Be Normal Website
---
Tue, 8 May 2018
Ep. 110 Brad Gullickson
Brad Gullickson is a writer, podcaster, and film critic. This is Brad's second visit to the podcast. Our very first chat was on ep. 36 in May 2015! Hopping forward to today, Brad has accomplished so much. We pack a lot into this interview from quitting his day job and writing full time for Film School Rejects to interviewing folks like Vince Vaughn, S. Craig Zahler and Jim Gaffigan. You can follow Brad on Twitter @mouthdork.
Show Notes:
In the Mouth of Dorkness Podcast
Photo credit: Casey Yoshida
---
Mon, 5 March 2018
Ep. 107 Mike Owens
Mike Owens is the co-creator of the Amazon show Danger and Eggs. The cartoon is hilarious and heartwarming. It's received rave reviews and was nominated for a Critics Choice, GLAAD, and Annie Award. I had the pleasure of talking to Mike about his career in animation, the original short Danger and Eggs is based on, and what it's like to create a show for Amazon. You can follow Mike on Twitter (@mowensanimation) and Instagram (@therealmikeowens)
Show Notes:
---
Tue, 13 February 2018
Ep. 106 Dallas and Leigh Taylor Part 2
Welcome to part two of my chat with Dallas & Leigh Taylor of Defacto Sound. This episode focuses on their podcast Twenty Thousand Hertz. Dallas and Leigh shared with me how they make the podcast and all the planning that went behind its launch. You can follow Dallas on Twitter @d_llas & Leigh @perfythegreat.
Show Notes:
---
Mon, 29 January 2018
Ep. 106 Dallas and Leigh Taylor Part 1
Meet Dallas & Leigh Taylor. They are the husband and wife team behind the award winning sound studio Defacto Sound. They've worked with tons of cool names including Netflix, Discovery, and Bethesda.
Dallas and Leigh also created one of my all time favorite podcasts Twenty Thousand Hertz. Their podcast explores the stories behind the world's most recognizable and interesting sounds.
This interview is a two-parter. Part 1 focuses on starting your own creative business and the joys and stresses around taking that leap.
You can follow Dallas on Twitter @d_llas & Leigh @perfythegreat.
Show Notes:
---
Wed, 18 October 2017
Ep. 103 Deborah Haywood
Deborah Haywood (@blytheface) is a UK based filmmaker. She is the writer and director of Pin Cushion. I caught Pin Cushion at Fantastic Fest, and it is my number one film of the year. Deborah's voice is so unique. She knows how to tell a story with heart, raw emotion, and humor. Go see Pin Cushion if it is playing at a festival near you, AND definitely check out her short films on Vimeo. In this interview, Deborah shares her experience with personal storytelling, the need for more female narratives, the fashion in Pin Cushion, and audience reactions. You can follow Deborah on Twitter, Letterboxd (@dollipop), and Instagram.
Show Notes:
Emily Sears Birth.Movie.Death piece on Pin Cushion
Deborah's short films on Vimeo
Deborah Haywood on Letterboxd: @Dollipop
---
Thu, 4 May 2017
Ep. 93 William Dass
William (aka Billy) Dass writes for Film School Rejects and also hosts weekly interviews with indie filmmakers on ITMODcast's CHATCast series. In this episode, we talk about how to introduce classic films you love to your children, the lack of male nudity in film, and what led to him podcasting. You can follow Billy on Twitter (@WBDass), read his work on Film School Rejects, and check out his Chatcasts on ITMODcast Podcast.
---
Wed, 1 March 2017
Ep. 90 Fay Robles
Fay Robles is a Los Angeles based filmmaker and founder of Mer Docs, a production company and site featuring short documentaries on creative women. In this episode, we talk about discovering new artists, what makes a good documentary, and the future of Mer Docs. You can find all of Mer Docs' short documentaries on Merdocs.tv. Follow Mer Docs on Twitter (@merdocstv).
Show Notes:
Steff Bomb People I Think Are Cool Interview
Documentary recommendations:
---
Mon, 14 November 2016
Ep. 85 Michael Valentine
Michael Valentine is a documentary filmmaker based in California. His latest film Comix: Beyond the Comic Book Pages is available now on iTunes and Amazon (on DVD & Amazon Prime streaming). The film features interviews from comic creators and fans, including Stan Lee and Frank Miller. In this interview, we talk about his 13 year journey into making Comix, marketing a film, and finding distribution. You can follow Michael on Twitter and Facebook.
---
Tue, 23 August 2016
Ep. 80 Emily Whitten
Emily Whitten is a lawyer by day and a writer for ComicM!x by night. I caught Emily right after Comic Con, and she had so many great pro tips to share! In this episode, we talk about how to stay professional while interviewing celebrities, the weirdest things fans have sent to her friend Neil Gaiman, and how she got into writing. You can follow Emily on YouTube, ComicM!X, Twitter, and Instagram.
Show Notes:
Emily's Interview with Nickelodeon's TMNT Part 1
Emily's Interview with Nickelodeon's TMNT Part 2
---
Fri, 13 May 2016
Ep. 73 Blake Hamilton
Blake Hamilton is the co-founder of All the Wonders, a site celebrating everything children's literature through author/illustrator interviews, podcasts, behind the scenes videos, and more. In this interview, I talk to Blake about his career in film and television, the importance of storytelling, and the conversation that sparked All the Wonders with co-founder Matthew Winner. You can follow Blake on Twitter and check out All the Wonders on Facebook, Twitter, and Instagram.
---
Fri, 22 January 2016
Ep. 65 Bryan Young
Bryan Young is a co-host on In The Mouth of Dorkness, a podcast covering all things geek and movies. In this episode, we talk about embracing what you love even when others don't, why our favorite Teenage Mutant Ninja Turtles change with age, and taking the leap into starting your own business. Also, I try and get Bryan to break down his obsession with the Power Rangers. You can follow Bryan on Twitter, Letterboxd, and Instagram.
AND if you love movies, you have to check out ITMODcast. I've interviewed all four co-hosts because I love ITMODcast so much. These guys dig deep with their love of film and share their personal stories at the same time. It's very addictive. Trust me.
---
Fri, 13 November 2015
Ep. 60 Darren Smith
Darren is the founder and co-host of the geek and movie podcast ITMODcast, aka In the Mouth of Dorkness. I listen to ITMODcast religiously and had to have Darren on the show. In this episode, we talk about starting a podcast, our love for the Alamo Drafthouse DC, and the time he asked Patton Oswalt to be a guest on ITMOD (there is a good chance it might happen too!). Follow ITMODcast on Facebook and Twitter.
---
Fri, 23 October 2015
Ep. 57 Greg Sahadachny
Greg is the host of Debatable Podcast and All the Pieces Matter, a podcast about HBO's The Wire. In this episode, we talk about why it's important to have a creative outlet, landing interviews with big directors, and his comfort with tackling controversial topics. Follow Greg on Twitter @mistergreggles.
---
Fri, 25 September 2015
Ep. 55 Kenny Caperton
Kenny is a filmmaker and major horror fan! He loves horror so much that in 2008 he built a replica of the iconic Myers house from John Carpenter's Halloween. He and wife Emily documented the construction of their dream home and now share life in the Myers house on their site. In this episode, we talk about recreating the blueprint for the Myers house from scratch, finding distribution for his film Honeyspider, and planning a 300+ Halloween party for horror fans. You can follow Kenny on Twitter, Instagram, Tumblr, and Facebook.
---
Fri, 28 August 2015
Ep. 51 Lisa Gullickson
Lisa is a co-host on the movie and geek podcast In The Mouth of Dorkness. In this episode, we talk about her wife-dork nickname, her extreme emetophobia, and owning a snake out of spite for an ex-lover. You can follow Lisa on Twitter and Instagram.
---
Fri, 21 August 2015
Ep. 50 Nick Marinelli
Nick Marinelli is the chief operating officer for the music and gaming festival MagFest. In this episode, we talk about running an event with over 17,000 attendees, gaming culture, and video game music. Stay up to date on all things MagFest on Facebook, YouTube & Twitter.
---
Fri, 17 July 2015
Ep. 45 Aaron Prescott
Aaron is the creative manager at the Alamo Drafthouse in Ashburn, VA. In this episode, we talk about landing a film lover's dream job, creating those hilarious pre-shows, and teaming up with Patton Oswalt for a night of double features.
You can check out the latest events for the Alamo Drafthouse in Ashburn, VA on Twitter and Facebook, AND you can check out Aaron's amazing adventures on Twitter and Instagram.
---
Fri, 8 May 2015
Ep. 36 Brad Gullickson
Brad is the co-host of the popular all things geek podcast In the Mouth of Dorkness. He is a walking encylopedia for film. Seriously. Name a movie and he will tell you the director, the year it was made, and the lead actors.
In this episode, we talk about interivewing The Blair Witch director, Eduardo Sanchez, the importance of watching movies made before your generation, and how Twitter landed ITMOD Podcast an interview with one of their favorite screenwriters.
Follow Brad's adventures into geekdom on Twitter and Instagram.
You can also listen to ITMOD podcast on iTunes or stream it directly form their blog. Follow the geeks on Twitter, Facebook, and Instagram to stay up to date on the latest geek trends.
---
Fri, 27 February 2015
Ep. 26 Lee Hardcastle
Lee Hardcastle is a writer, director, and animator. He is best known for his awesomely gory claymation shorts. I first saw his work in Alamo Drafthouse's ABC's of Death. His short films are the perfect mix of blood, guts, and humor. In this episode, we talk about his career, film festivals, and his bad a** name. You can follow Lee on YouTube, Facebook, Twitter, and Instagram.
---
Fri, 16 January 2015
Ep. 20 Rachael Berkey
This week I chat with writer Rachael Berkey. She's written for sites like Nerdist, Playboy, Huffington Post, and HelloGiggles. She also has a long running love affair with all things books. I've known Rachael for a few years now from our days at Hellogiggles. She tells her story about transitioning from writing articles for free to building up her resume and making it as a paid contirubuting journalist for Nerdist and Playboy. You can pretty much find Rachael on every corner of the internet. Check her out on Twitter, Tumblr, and Instagram as @bookoisseur.
---
Fri, 19 December 2014
Ep. 18 SJ Murray
Sarah-Jane (Ph.D, Princeton) is an EMMY-nominated screenwriter and producer. She studied screenwriting at UCLA and is associate professor of creative writing and great texts at Baylor University. SJ is a passionate abolitionist and advocate for the arts. As a story designer, she believes stories, when they are well-told, can change the world. Originally from Northern Ireland, SJ lives in Austin, TX.
---
Fri, 21 November 2014
Ep. 14 Erin Mallory Long
This week I talk with pop culture guru Erin Mallory Long. Erin's been noted by Huffington Post, Funny or Die and Thought Catalogue as one of the funniest women on Twitter. She also writes for HelloGiggles and is a published author. Seriously, this lady does everything. We chat a lot about her career and love of pop culture, but we also get to the root of her childhood crushes. It gets super juicy towards the end there.
---
Fri, 31 October 2014
Ep. 11 Christian Spicer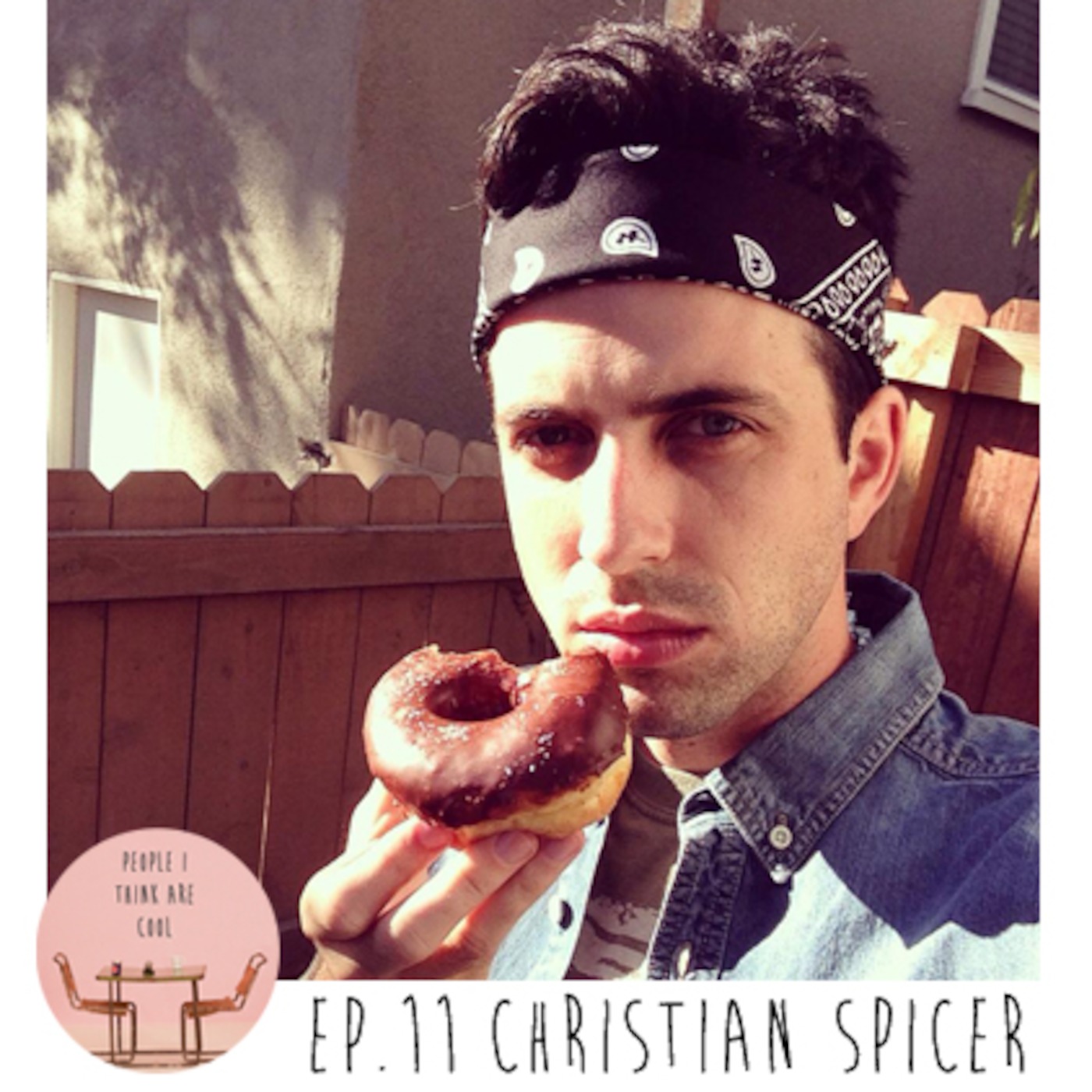 This week I got to hangout with comedian Christian Spicer. He co-hosts SketchMelt at the Nerdist showroom every month, and he also co-hosts the weekly live podcast DLC on 5by5. Christian and I talk about what it's like to be a writer and a comedian and how he got his start. You can follow Christian on Twitter at @spicer.
---
Fri, 17 October 2014
Ep. 9 Courtney Howard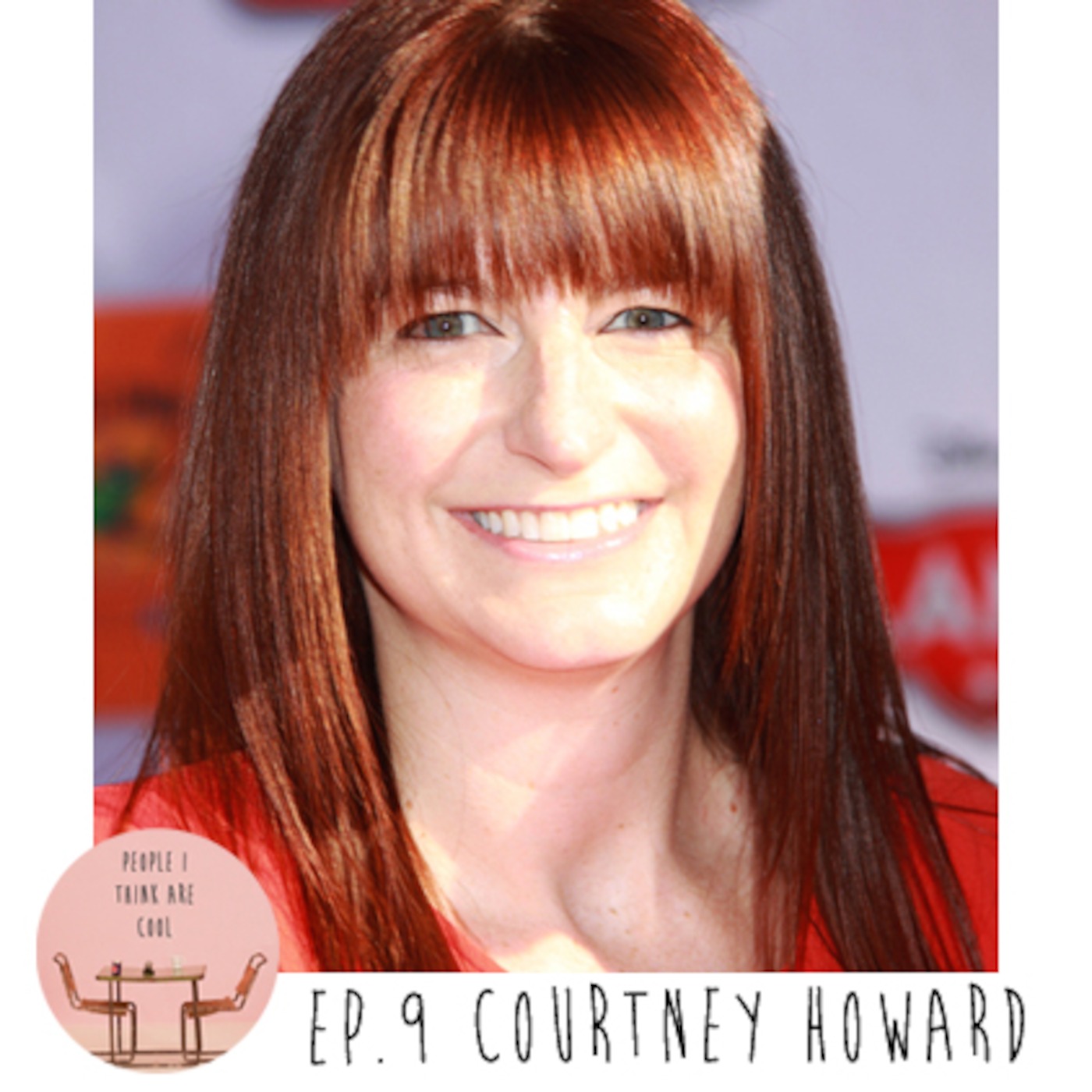 This week I interview film journalist, Courtney Howard. She takes me behind the scenes of what it's like to get paid to watch movies and share your thoughts with the world. Also, I hit her up on the best swag she's ever received. You will be surprised! You can check out Courtney's awesomeness on Twitter and Instagram @Lulamaybelle.
---
Fri, 12 September 2014
Ep. 4 Ashley Walsh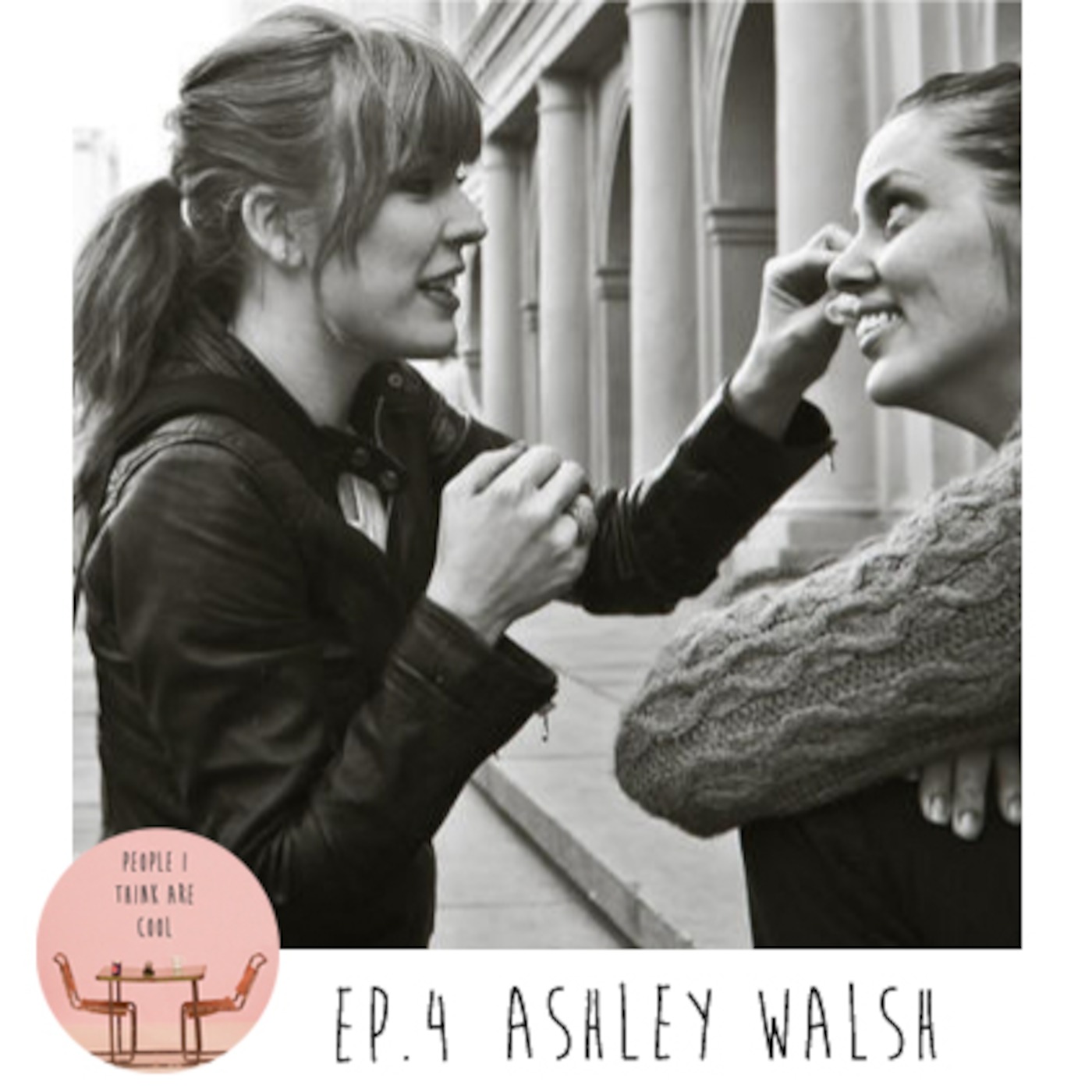 This week I interview Ashley Walsh. She is a special effects and make-up artist for the entertainment industry. Ashley has worked on True Detective, The Walking Dead, and a bunch more. There are too many awesome shows to list because she's that amazing. You can see a full list of her work at walshmakeup.com. I've known Ashley for a very long time so it was great to catchup and hear about the craziness of being a make-up artist.
---